Click the thumbnail to see the full comics. As of 09/20/20, the most recently added comic in each category will be displayed first.
---
"Meet the New Strains" posted on The Nib 02/24/21
---
COVID and Vitamin D: A Public Service Announcement, written by Michael Goodwin and illustrated by Mariusz Zabdyr. Posted 02/26/21
---
World of Viruses, COVID-19 are comics created by Bob Hall and hosted by the University of Nebraska.
---
The COVID-19 Chronicles from Yong Loo Lin School of Medicine, National University of Singapore
---
How to safely play on a playground by Malaka Gharib for NPR.
---
Be Aware of Droplets and Bubbles! Drawing the History of Science website.
---
How Seniors are Living with COVID-19 by Canadian cartoonist Rebecca Roher. Posted 11/23/20
---
November 2020 comic by Malaka Gharib: A Kids' Guide To Coping With The Pandemic (And A Printable Zine)
---
Spinoff cartoonist Toby Morris, with help from Dr Siouxsie Wiles, explores three important points about Covid-19.
He also created the .gif posted in this tweet
Hey Auckland. @AshBloomfield has just announced a new case of #Covid_19 in Auckland not yet linked to the border. While we wait for more info, use your slices of #SwissCheese Use the app. Wear a mask. Wash your hands. Get tested & self isolate if you have symptoms. #covid19nz pic.twitter.com/2uazCq2g6w

— Dr Siouxsie Wiles (@SiouxsieW) November 12, 2020
UPDATE: a collection of the COVID work by Wiles & Morris can be found here.
---
Whit Taylor and Allison Shwed created this comic to debunk some Covid-19 myths. 
---
Ellen Forney created this tutorial on proper hand washing technique.
---
Malaka Gharib with NPR created this comic based on a radio story by Cory Turner. She intended for children to have access to facts about coronavirus. The original story includes the entire comic. Then she posted a follow up story, because libraries and schools have been translating and disseminating the comic. Malaka has also made the zine version available here to download for noncommercial use.
---
UPDATE: Added to above series in August is  COVID-19 Etiquette: 6 Common Conundrums (And A Printable Pocket Guide)
---
Weiman Kow wanted to create comics to help explain how coronavirus works. She has created a website for her infocomics. She has updated her COVID comic to include the latest medical information. Here is an article from The Hindu about her work.
---
Inspired by the UN's GLOBAL CALL TO CREATIVES, Gen Z Group, a Singapore-based educational media company, decided to adapt the Handbook of COVID-19 Prevention and Treatment, jointly published by Jack Ma Foundation and The First Affiliated Hospital of Zhejiang University School of Medicine, into a five-episode graphic novel, titled "One World, One Fight." See this Spotlight post for more.
---
An excellent gif to show why social distancing is important. Click the image for the gif.
---
Bioethicists Leah Eisenberg, Joan Henriksen, Felicia Cohn, Anita Tarzian, Theresa Drought, and Heather Fitzgerald worked with cartoonist Cathy Leamy to create this comic about triage of care during a pandemic.
---
Emergency medicine physician, cartoonist, and Medicina Gráfica organizer Monica Lalanda has been making comics and infographics with the most recent information available to keep health care providers and all following Coronavirus best practices. You can find all of them on her website here.
---
Juhan Sonan sends us a wonderful resource from goinvo for caring for someone with Covid-19 at home. It can be downloaded in PDF form in several languages here. 
---
This comic on the FiveThirtyEight website is "A Comic Strip Tour of the Wild World of Pandemic Modeling".
---
Maddy Buck of LetsDrawLaw has created this explainer comic about the law around quarantine powers.
---
A September 14 comic "Waiting For Herd Immunity is Not the Answer" by Maki Naro and Matthew Francis.
---
Katy Doughty created this comic, "We Might Never Know the True Toll of COVID-19" for The Nib
---
GoInvo has created and made available several downloadable PDF comics to help understand the ways individuals, communities, hospitals, cities, airports, and borders can respond to COVID-19 for the good of all.
---
The Emory University Global Health Institute invited writers and illustrators (or aspiring writers and illustrators!) to write and illustrate children's eBooks aimed at providing age-appropriate information for children ages 6-9 on the COVID-19 pandemic. Here are the winners and honorable mentions.
---
This series of educational illustrations are drawn by Sonny Liew, in consultation with Associate Professor Hsu Li Yang, Programme Leader (Infectious Diseases) and supported by the Singapore Population Health Improvement Centre (SPHERiC). Click image for full comic.
---
Sesame Street using Elmo and his Mom in a comic to help parents talk to their children about COVID-19.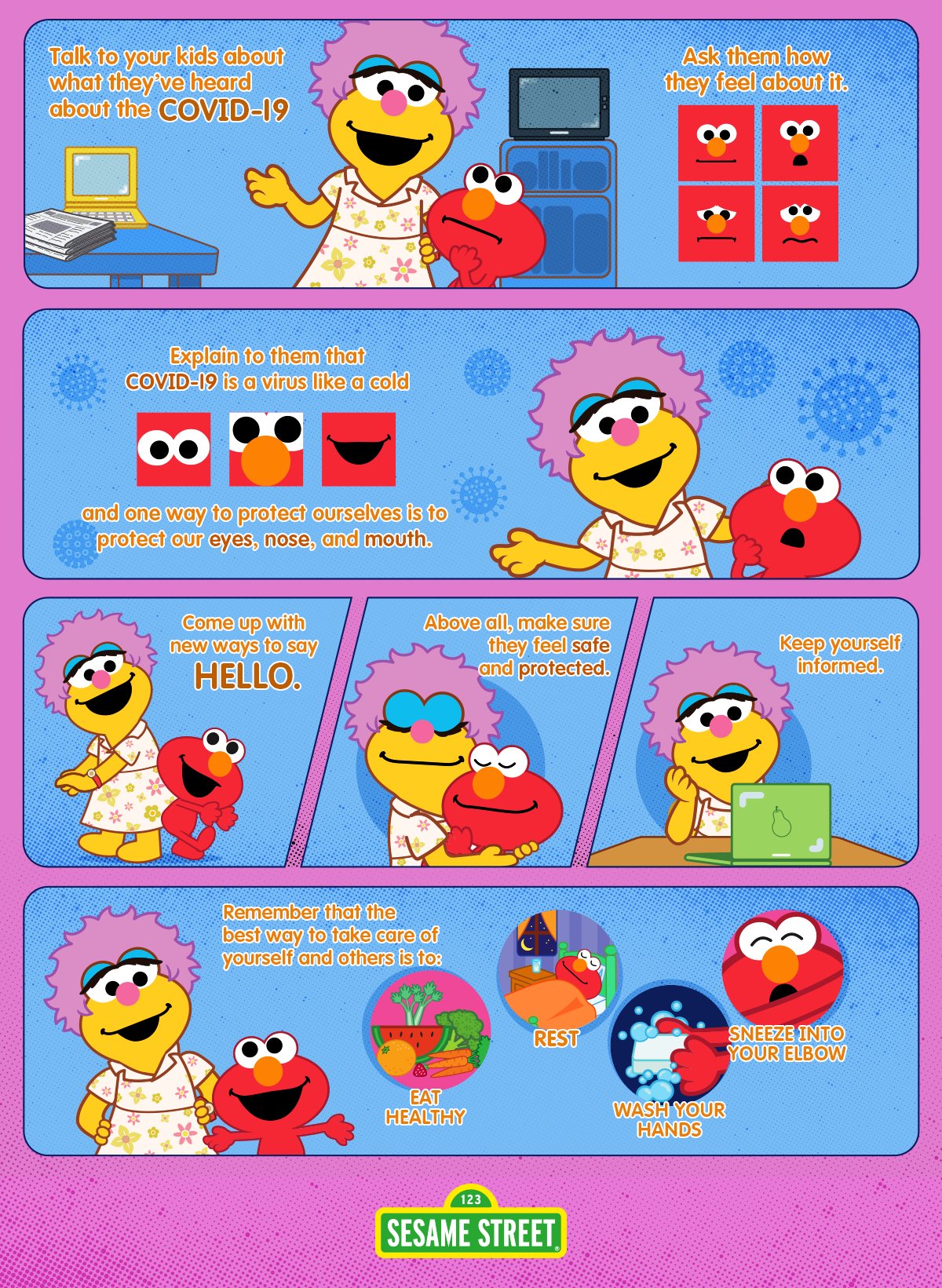 ---
Spanish nurse, illustrator, and Medicina Gráfica co-organizer Tolo Villalonga has created several educational posters in Spanish. Click the link below to see more on his Instagram.
---
and Medicina Gráfica has collected more from the Spanish-speaking world in this post.
---
UNICEF distributed this animation about how the coronavirus spreads
---
The Vietnamese health department posted this animated video.
---
One more animation – on how the Corona Virus works inside the body.