Last updated 04/01/20
The World Health Organization (WHO) has declared coronavirus (COVID-19) a pandemic. There is much information available online.  (Not all of that information has been reliable, so be sure to verify information!)
There are also dozens of comics about COVID-19 coming across our feeds. The comics are educational, social justice oriented, humorous/coping, or a combination of any and all of the above. Here are some of them for you. We have tried to include only comics with reliable information. We have also included a few historical plague-themed comics and non-comic resources for reliable information about COVID-19.
Categories:
Educational
Ethics
Comics by Care Providers
Comics by Patients
Humorous/Coping
Historical/Pandemic-Related
Non-comic Resources
More comics and resources will be added as we find them.
Also check out this collection, curated by A. David Lewis. And Short Run Seattle is collecting community-made comics here.
---
We welcome your submissions to add to this post!
---
Educational
---
Spinoff cartoonist Toby Morris, with help from Dr Siouxsie Wiles, explores three important points about Covid-19.
---
Whit Taylor and Allison Shwed created this comic to debunk some Covid-19 myths. 
---
Ellen Forney created this tutorial on proper hand washing technique.
---
Malaka Gharib with NPR created this comic based on a radio story by Cory Turner. She intended for children to have access to facts about coronavirus. The original story includes the entire comic. Then she posted a follow up story, because libraries and schools have been translating and disseminating the comic. Malaka has also made the zine version available here to download for noncommercial use.
---
Weiman Kow wanted to create comics to help explain how coronavirus works. She has created a website for her infocomics. Since her original COVID comic, she has added more about specific topics, such as hand washing and wearing a mask. Here is an article from The Hindu about her work.
---
An excellent gif to show why social distancing is important. Click the image for the gif.
---
Emergency medicine physician, cartoonist, and Medicina Gráfica organizer Monica Lalanda has been making comics and infographics with the most recent information available to keep health care providers and all following Coronavirus best practices. You can find all of them on her website here.
---
This series of educational illustrations are drawn by Sonny Liew, in consultation with Associate Professor Hsu Li Yang, Programme Leader (Infectious Diseases) and supported by the Singapore Population Health Improvement Centre (SPHERiC). Click image for full comic.
---
Sesame Street using Elmo and his Mom in a comic to help parents talk to their children about COVID-19.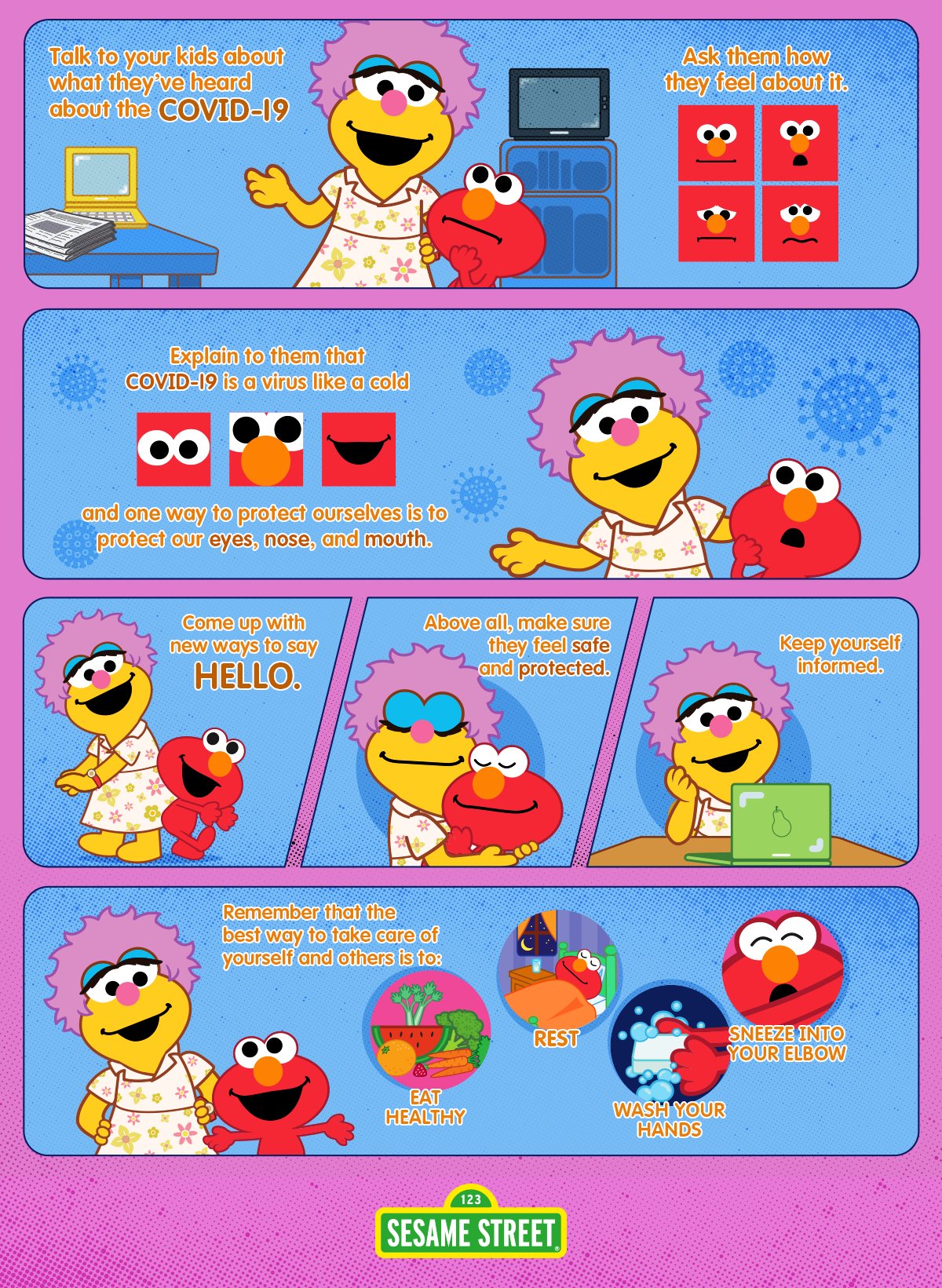 ---
Spanish nurse, illustrator, and Medicina Gráfica co-organizer Tolo Villalonga has created several educational posters in Spanish. Click the link below to see more on his Instagram.
---
and Medicina Gráfica has collected more from the Spanish-speaking world in this post.
---
The Vietnamese health department posted this animated video.
---
One more animation – on how the Corona Virus works inside the body.
---
Ethics
---
Bioethicist Craig Klugman creates comics to illustrate his blog posts. His most recent comics are organized here and have addressed the ethical issues arising from Covid-19.
---
Rachael L House
---
Comics by Care Providers
---
Graphic Medicine site founder and co-manager Ian Williams created this comic about one of his clinic visits.
---
Physician/cartoonist Grace Ferris has been posting coping comics. See her Instagram feed for more.
---
Shirlene Obuobi is an internal medicine resident in Chicago.
---
Mike Natter is a physician-cartoonist on the front lines of this crisis in New York.
---
And Alex Thomas of Booster Shot Media  is a physician-cartoonist in the Chicagoland area. His Instagram feed has more installments of "True Tales from the Outbreak"
---
Another nurse/cartoonist from Spain, Marina Peix, has also been creating comics about her clinical work.
---
Nathan Gray is a palliative care physician and cartoonist in North Carolina.
---
Nathan also created this comic about speaking with patients and families.
---
Rebecca Osborn is a second-year internal medicine resident at Yale. She submitted this comic directly to us.
---
Comics by Patients
---
Being a patient impacted by COVID-19 is not limited to those who have symptoms. Cities, states and nations have postponed nonessential surgeries and medical procedures. Myrtle.infertile has been posting comics about her IVF experiences on Instagram. Her latest post is about the impact of COVID.
---
Medical illustrator and educator MERLIN has been posting drawings to Instagram about her experiences with Covid-19.
---
Humorous/Coping
---
The legendary Roz Chast.
---
The Nib features four cartoonists responding to the Pandemic's impact on their lives. 

---
Chris Ware created this for The New Yorker
---
Lunar Baboon cartoonist Christopher Grady posted this coping comic on March 29.
---
Montana cartoonist Vrah sent us a link to her great work.
---
Bill Doan has created this piece for Annals Graphic Medicine.
Another by Rachel House
---
"Creativity in Captivity" by Gemma Correll (click image for full comic on The Nib)
Katie Wheeler created "My parents and I both live in coronavirus epicenters — but we're separated by thousands of miles" on The Lily. Click image for full comic. 
---
Robyn Jordan will be posting a series of comics for Mutha Magazine, "Home Not Sick"
---
Ms Mardou makes comics about life, and most recently Family Systems Therapy. See her Instagram feed for the ongoing series.
---
---
@Secondlina drew this comic about pets responding to their humans staying home
People are tweeting that their pets are kinda loosing their mind because they are home due to the quarantine (my own cats are really happy / confused because my husband is home) so I drew this. pic.twitter.com/yRil8phJLF

— Isa @ (/ ̄ー ̄)/~~☆':★' (@Secondlina) March 16, 2020
---
Embryo Stories with an inspiring comic of COVID-19 defeat
---
A politically oriented one by Jen Sorensen about reactions to social distancing. Jen has other COVID comics on her website
---
And here's an XKCD from the perspective of a virus…
---
Historical/Pandemic-related
---
The top 10 most deadly epidemics are included in this comic, Death By The Numbers, on The Nib. Click image for full comic.
---
The Seattle Public Health Department launched this comic on quarantine preparedness, No Ordinary Flu, drawn by David Lasky, in 2016. It is available for order or download in many languages. Click image for more information.
---
Public health professional and cartoonist Whit Taylor created this prescient comic, America Isn't Ready for a Pandemic, in 2018.
---
Robert Ullman made this comic, "Skating on Thin Ice" about the last time sporting championships were cancelled, 100 years ago, due to the 1918 flu pandemic.
---
"What Made The Black Death So Deadly & Who Were The Plague Doctors" – animated doc from The Infographics Show
---
Not a comic, but a fascinating visual of the history of pandemics.  Click for full post.
---
Resources of the non-comic variety
---
The World Health Organization (WHO) has a comprehensive website containing advice, facts, statistics, research, videos and more about the recent outbreak of COVID-19.
---
Coronavirus at a glance from Johns Hopkins. Click for full infographic.
---
A go-to resource is https://coronavirus.gov, which leads to the CDC page with links to resources, articles, and news updates. The website is available in Spanish and Chinese.
---
Johns Hopkins Whiting School of Engineering's Center for Systems Science and Engineering has a constantly updating Global Interactive Spread dashboard.
---
The US National Institute of Health (NIH) also has a site information and links to resources.
---
To close this post, Alice Bellchambers, a junior doctor working in London, UK, says, "I was introduced to comics and Graphic Medicine by Muna Al-Jawad, while I was a medical student in Brighton. I have been drawing and reflecting more frequently during recent times, and have just drawn the attached COVID-19 related poster/comic."